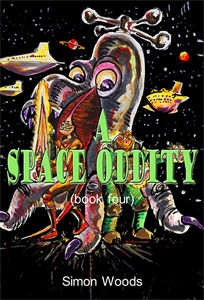 Book 4 in the Brave Dave series.
Using some castoff D.O.N.T. matter and securing the help of Clive, a Worm Captain, our heroes unknowingly aid a tap-like alien with his goal to take over the Earth.
The three intrepid travellers use the TarCapoPodyDontDis-o-Sule, something Tariq just happened to knock up, to travel to the alien's home planet – Ahbloo.
Confusion ensues, food is made. Can Tariq save the day? Or does Dave do "the usual"?
Everything is up for grabs; even the possibility of peace!
Paperback on Amazon – click here for info.
Kindle edition on Amazon – click here for info.