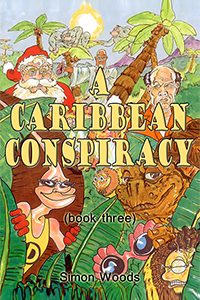 Book 3 in the Brave Dave series.
With the aid of the random holiday picker our friends embark on a Caribbean adventure. But all is not well in paradise, there are evils deeds afoot.
The very existence of a centuries old celebration is in danger. Who will save the day? Who has the courage and intellect to rival the most dastardly foes? Who's got the worst taste in sunglasses ever?
Join Brave Dave and Tariq for the answers, and find out how they rescue Santa Claus and the meaning of Christmas
Paperback on Amazon – click here for info.
Kindle edition on Amazon – click here for info.